Welcome to The Wagon Shed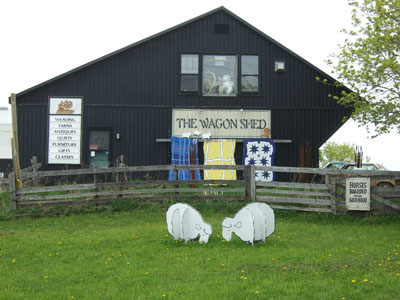 Nestled on a picturesque farm in the countryside of ARVA, ONTARIO
(only two kilometers from the City of London), The Wagon Shed transports you to the world of years past. You will find for sale, beautiful hand made quilts and table runners, everything hand woven from afghans to totes, hand crafted baskets and hand knitted children's clothing.
A love of fine art and a passion for bygone eras inspired Katharine (Kassy) Wells to create The Wagon Shed in 1994.

Katharine's vision was to create a warm, friendly environment where everyone could experience the hands-on arts of QUILTING, SPINNING, WEAVING, BASKETRY and RUG HOOKING. She has certainly captured this environment at The Wagon Shed. Katharine or "Kassy" you will quickly learn, is enthusiastic to share her talents. She invites you to learn how to spin, weave, quilt or try your hand at basket making.
The Wagon Shed also carries a full line of yarns, rovings and hand spun yarns, spinning wheels, looms and accessories.

A collection of whimsical HAND KNITTED BEARS greet you with their sunny smiles and unique designer sweaters. These bears are lovingly created by Kassy's mom, Marion. (It's certainly easy to see where Kassy gets her talent!)
Each bear has its own personality that complements the hand knitted children's wear, also created by Marion, in sizes from newborn to six years of age.
A variety of handcrafted items are available in the retail shop, including QUILTS, CLOTHING KNITWEAR, HANDSPUN YARN, and HANDWOVEN ITEMS, as well as HANDMADE BASKETS and FURNITURE created by local artisans. Supplies are also available for SPINNERS and WEAVERS as well as classes in basket-making, quilting, spinning and weaving.
CUSTOM WEAVING

Bring in your decorating samples and let Katharine create a one of a kind custom afghan just for you.

Made in
CANADA
RAPID FIRE - HUNTER'S STAR
Come and see the sample of our quilting workshop. We are selling the templates for this workshop here for our quilters. Add a touch of colour and warmth to your palette with a table runner quilt.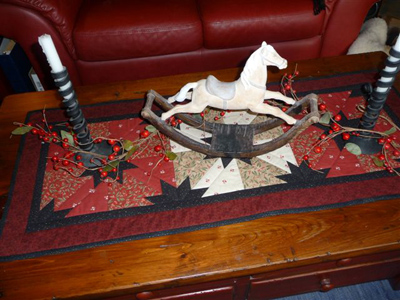 ROAD TRIP TO THE WAGON SHED
Load up your pals and come out to see what is going on at The Wagon Shed this Fall.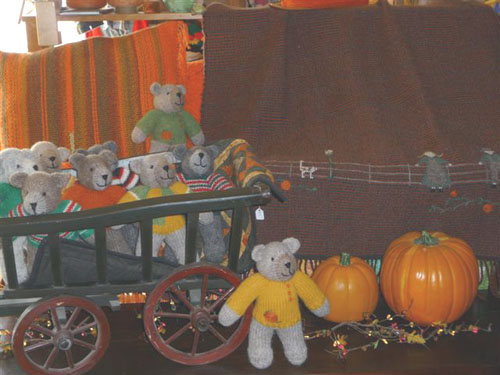 MESSAGE FROM SANTA'S WORKSHOP
We are trying something new this year...
We have done all the work setting up the looms for you to come in and weave your own for Christmas Gifts for a much better price. Your choice, weave one or two ? maybe one of each colour. We have chosen "Eco-Friendly" yarn called Riveting from Recycled Jeans. Truly a country casual look for your weekend walks.
LOUET LOOMS FOR SALE

We have two Jane Looms here on site for you to come in and have a look at. There is a 40 cm. and a 70 cm. both are eight harness and are just a dream to use.
Time to start your "Christmas Baking" because Santa will be here soon!




---
CLASSES AT THE WAGON SHED
See our CLASSES POSTER or Call for details.
We offer BEGINNER'S KNITTING CLASSES
---
ALL STOCKED UP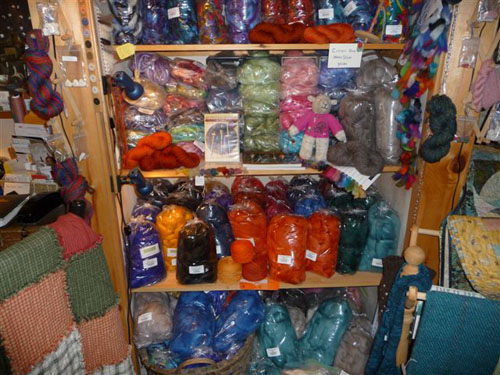 Come on out and check out our new fibres to spin or felt. See our huge array of colours to choose from. Sure to keep you out of mischief at the mall.
---
CLASSES
WEAVING, SPINNING AND QUILTING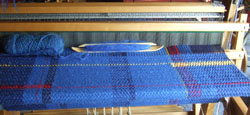 Weaving & Spinning Classes start weekly. Why not come and join the fun! Call or click for MORE INFO....
---
SPRING TIME
Warm days and chilly nights are almost here. Cuddle up under this Log Cabin throw and wait to see the birds coming back home.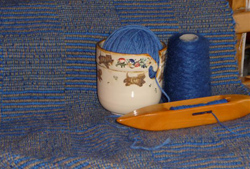 ---
THURSDAY NIGHT IS POT LUCK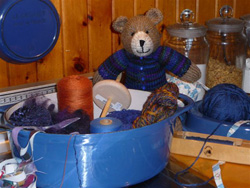 From 7:00 to 9:30 p.m. every Thursday, bring along your unfinished project, get helpful advice or just get together with the groups.
MORE INFO...
---
YARNS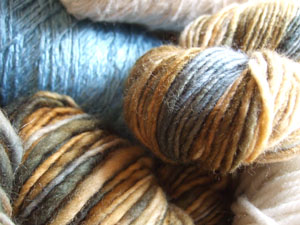 Yes, The Wagon Shed sells handspun yarns, wool and roving but there's more than just Fibre - The Wagon Shed also offers FURNITURE, BASKETS, LOOMS and
LOUET SPINNING WHEELS.
---
MY LITTLE QUILTING BUDDY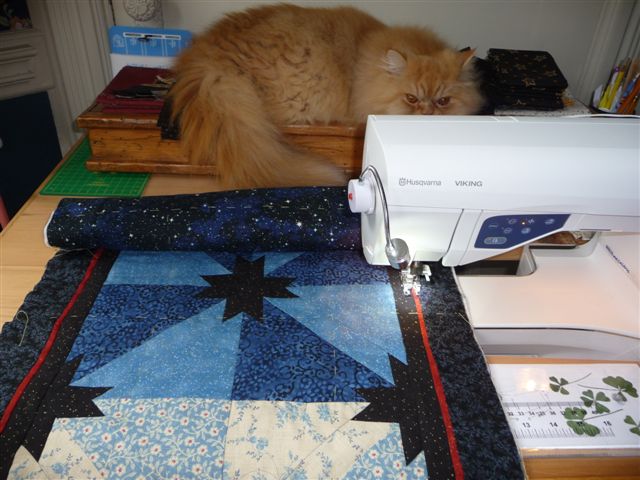 ---
STORE HOURS:
Wed: 1:00 to 5:00 p.m.
Thurs: 1:00 to 5:00 p.m. and 7:00 to 9:30 p.m.
Fri & Sat: 1:00 to 5:00 p.m.
Sun, Mon & Tues: Closed
PHONE: 519-679-8444
OUR LOCATION IN ARVA, ONTARIO.
---
WE OFFER GIFT CERTIFICATES
Make your shopping easier with a Wagon Shed Gift Certificate for that hard to buy for person on your list.